Home
❭
News
❭ Reps. Fishbein, Candelora, Yaccarino and Senator Fasano Host Business Forum in Wallingford
Reps. Fishbein, Candelora, Yaccarino and Senator Fasano Host Business Forum in Wallingford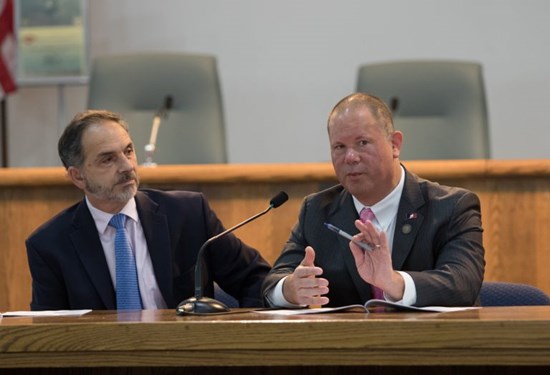 State Representatives Craig Fishbein (R-90), Vincent Candelora (R-86) and Dave Yaccarino (R-87), and State Senator Len Fasano (R-34) recently held a successful business advisory forum for local business leaders, employees and the public in the Robert F. Parisi Council Chambers of the Wallingford Town Hall.
The hour-long discussion began with a general overview of the main topics and quickly became an informative back and forth between the legislators and the more than 30 attendees. The legislators talked about several important pieces of legislation presented, debated or passed by the General Assembly this year, including the state's new paid family medical leave program, an increase to the minimum wage and changes to the pass-through entity tax.
Each of these issues directly impacts Connecticut businesses, and will affect residents across the state.