Rep. Fishbein Talks With Lyman Hall High School Civics Classes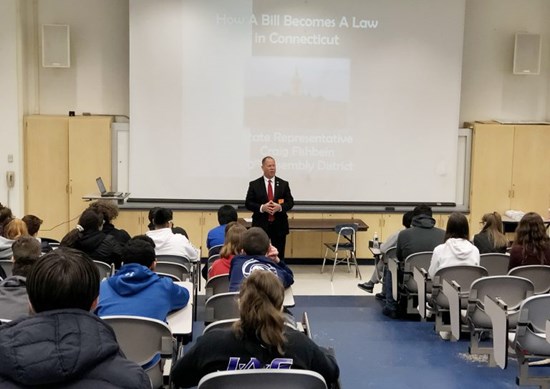 A strong proponent of civic engagement, State Representative Craig Fishbein spent a recent morning discussing state policies and the legislative process with more than 70 students from several Lyman Hall High School civics classes.
With a PowerPoint presentation to highlight major topics, Rep. Fishbein gave an overview of how a bill becomes a law and the separation of powers between the three co-equal branches of government while taking questions and having an open back and forth with students on various topics facing our state.
During the discussion, students brought up many important issues, including taxes and the state budget deficit, the potential addition of tolls to Connecticut highways and the plastic bag tax. They also spent time talking about the legalization of recreational cannabis and how possible legalization in Connecticut will be impacted by federal law.
Recent legislation regarding the restaurant industry which will be the focus of an upcoming special session was also a topic of discussion. The legislature will be in session this week to consider legislation to deal with discrepancies regarding the state's minimum wage and "tipped wage" for restaurant workers.
The process of how a thought becomes a law was discussed at length. Rep. Fishbein explained that before a bill can be considered it must begin with a thought, but turning those thoughts into workable laws for the state is the difficult part, he said. Talking about the process, they discussed drafting a bill, the screening process to make sure it doesn't duplicate current law and how it would impact other legislation locally or at the state level and getting the bill into committee. Rep. Fishbein explained that once a bill makes it to committee there are still no guarantees it will get out, or ever get to the full legislature. Public hearings, discussion among lawmakers, further revisions and committee votes come next, then if all went well, the bill moves to the calendar for consideration. After that, it's a waiting game as the legislative session clock moves toward sine die, the adjournment of the session.
Rep. Fishbein said he thoroughly enjoyed the conversation, and that he looks forward to having similar discussions with students at Sheehan and Cheshire High School in the future.