Rep. Fishbein Earns Award for Excellence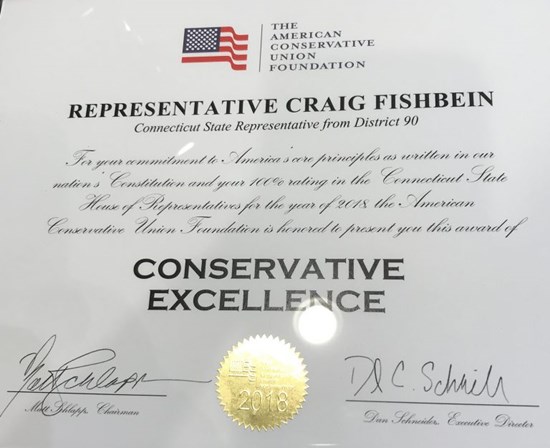 Referencing his unwavering support of the Constitution, the American Conservative Union Foundation recently presented State Representative Craig Fishbein (R-90) with an award for Conservative Excellence.
Rep. Fishbein was selected for his strong "commitment to America's core principals as written in our nation's Constitution" and his 100% attendance and voting record on key legislation for the 2017 and 2018 legislative sessions.
"It's an honor to be recognized for standing up for the Constitution and the Conservative principles of smaller government, lower taxes, and less interference in the day-to-day affairs of our law abiding citizens," Rep. Fishbein said. "I will continue to advocate for responsible legislation that moves Connecticut forward, while railing against the policies that hurt businesses and force employers from our great State."
The American Conservative Union Foundation's goal is to educate people while promoting conservative principles within five separate political areas that includes the Center for Human Dignity, the Center for Statesmanship & Diplomacy, the Center for 21st Century Property Rights, and the Center for Criminal Justice Reform (CCJR), and the Center for Arts & Culture.
Rep. Fishbein was one of only two legislators to achieve a 100% score for 2018, and he maintains a lifetime score of 88% with the Foundation, the highest percentage for the entire legislature.
The Foundation ranked all state lawmakers based on their support for Conservative positions on 13 important, select pieces of legislation. The bills all affect job creation, small business growth and economic stability in Connecticut. The complete scorecard can be viewed here: http://acuratings.conservative.org/wp-content/uploads/sites/5/2018/10/Connecticut_2018_web-1.pdf
Some of the bills assessed were measures Rep. Fishbein opposed, including: HB 5591 that increases numerous fees that municipalities are required to charge and nearly doubles the surcharge placed on car, truck and machinery rentals, and HB 5209 that places a $12 surcharge on the insurance bills of all residential homeowners to pay for repairs to select New Haven homes surrounding the West River and abutting the Yale Golf Course that have crumbling concrete foundations. The Foundation also assesses measures Rep. Fishbein supported, including SB 13 that implements numerous reforms to the state's criminal justice system to ensure that female inmates are housed in safe and sanitary conditions. It also includes guidelines for the treatment of pregnant inmates in order to guarantee the wellbeing of both mothers and their infants.
Rep. Fishbein currently serves as Vice-chair of the legislature's 14-member Conservative Caucus, a group of legislators dedicated to the principles of limited government, economic freedom and individual liberty, fostering open debate about the role of government in society, adherence to the Constitution, and the rule of law. They propose and advocate for legislation that promotes the freedoms, individual rights and prosperity of all Americans.