Rep. Fishbein and Cheshire Delegation Members Honor Essay Winner
During a brief presentation Thursday morning, State Representatives Craig Fishbein and Lezlye Zupkus were joined by principal Scott Jeffrey to honor Leila Hyder, 12, for her women's history month essay on author Luanne Rice. Leila's parents, Anita Sharif-Hyder and Fahmeed Hyder, surprised their daughter by attending the presentation.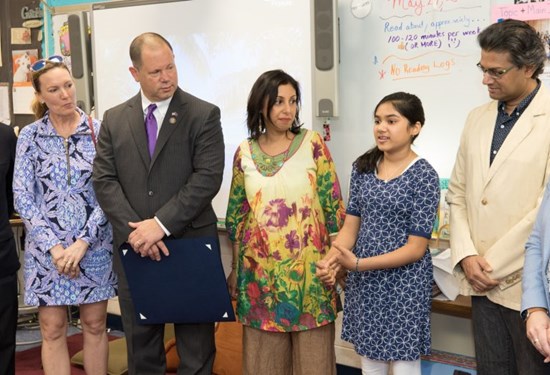 The Women's History Month essay contest titled, "Important Women in Connecticut's History and How Their Contributions to the State and Nation Affect Me," was organized by Rep. Fishbein to honor Women's History Month. Unfortunately, due to the legislative session the legislators were unable to meet with Miss Hyder during March. During the presentation before her 6th grade class, Hyder was given an official state citation and explained who author Luanne Rice is, and how she overcame incredible difficulty to become a respected author, before posing for pictures with her parents, the legislators, school officials and her classmates.