Cheshire State Officials Hold Informative Toll Forum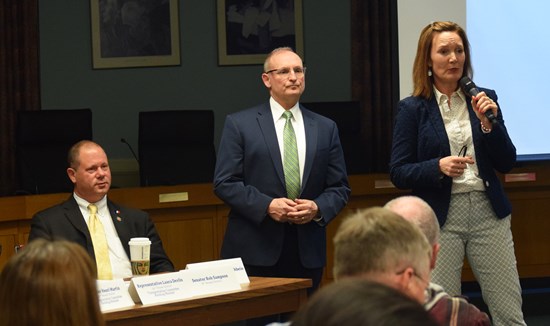 State Representatives Craig Fishbein (R-90) and Lezlye Zupkus (R-89) invited state Rep. Laura Devlin and Senator Henri Martin, ranking members of the legislature's Transportation Committee, to Cheshire for an informational forum on the toll proposals working their way through the legislature this session.
More than 100 concerned citizens filled the Cheshire Town Council Chambers as the legislators broke down each proposal and provided background and figures of each, as they're currently known. After the Powerpoint presentation ended, dozens of people queued up to ask questions.
"I want to thank all of my constituents who came out to the forum last week to ask questions and to express their concerns about the future of transportation in Connecticut," said Rep. Zupkus. "As you could see from our thoughtful transportation discussion, tolls are not the only answer to maintain and keep our roads, rails and bridges safe. We have a better solution; it's time to prioritize how our state spends money on transportation projects."
"It was great to see so many people at the forum and I appreciate each and every person who came, called my office or reached out via email to voice their concerns about adding tolls to Connecticut highways," Rep. Fishbein said. "The people of Cheshire, like in many towns across our state, have stated overwhelmingly that they cannot afford tolls and have flatly rejected the Democrats' flawed proposals to add them to our highways. People are struggling to do less with more and cannot afford another onerous tax on their roads. I remain firmly against adding tolls to our roads."
Many of the audience members who spoke said they were concerned with the state's reliance on raising taxes instead of cutting waste and streamlining government to find efficiencies and save money.
Republicans have proposed Prioritize Progress to fully fund the state's transportation needs for the next 30 years without relying on tax increases or tolls.
The Cheshire legislators mentioned how tolling has bipartisan opposition, with a grass-roots 'No Tolls CT' group gathering more than 93,000 online petition signatures and resolutions passed by 17 communities expressing opposition to tolls, including one passed by the Cheshire Town Council.