Cheshire Officials Award Winners of Student Essay Contest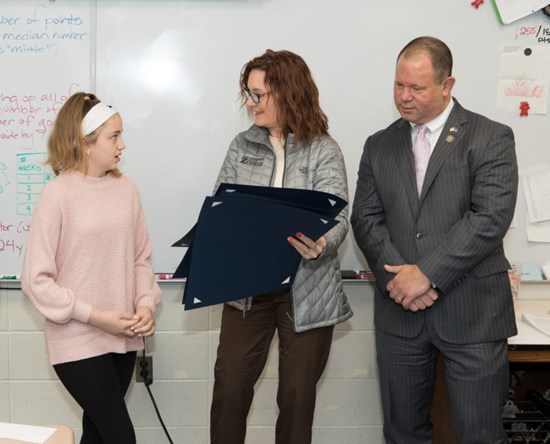 During a brief presentation Tuesday morning, State Representatives Craig Fishbein (R-90) and Lezlye Zupkus (R-89) were joined by principal Scott Jeffrey to honor Jake Tierney, for his women's history month essay on activist Anne Stanback and runner-up Mairead Hall for her essay on former Gov. Ella Grasso.
The Women's History Month essay contest titled, "Important Women in Connecticut's History and How Their Contributions to the State and Nation Affect Me," was organized by Reps. Zupkus and Fishbein to honor Women's History Month. During the presentation before their 6th grade classes, both Jake and Mairead were given official state citations and explained why they chose the subjects they chose to write about before posing for pictures with their parents, the legislators, school officials and classmates.
"The quality shown in all the essays, especially Jake and Mairead's essays, is impressive and demonstrates how thoughtful and engaged these students are with the world around us," Rep. Fishbein said. "It's an honor to recognize their talent, and I know we'll see great things from them in the future. Congratulations."