News
Latest updates from the campaign:
Friday, November 2, 2018 8:28 AM
ENDORSED BY THE RECORD JOURNAL NEWSPAPER!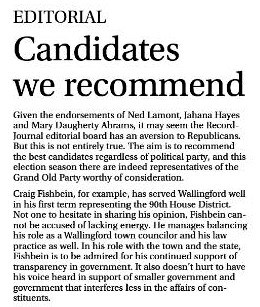 ---
Thursday, November 1, 2018 9:36 AM
ENDORSED BY THE CHESHIRE HERALD NEWSPAPER!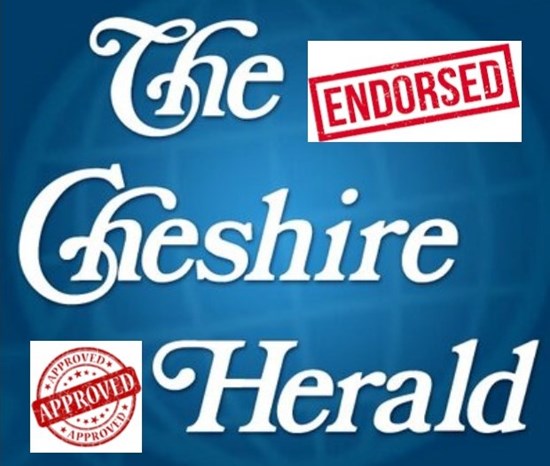 THE CHESHIRE HERALD ENDORSES CRAIG FISHBEIN FOR A SECOND TERM.
Perhaps no local politician has been more true to his word than Fishbein, who ran as a no-nonsense candidate two years ago, promising to stand against almost all government spending and unnecessary regulations. During his term, he's secured a reputation as a leader who takes a practical approach to issues and is unswayed by the emotions of the moment.
By and large, we believe this to be the attitude more politicians should take.
Fishbein's experience as a business owner allows him to speak plainly about the effects of complicated government policy— specifically on the unforeseen consequences of government intervention. Fishbein doesn't just look at what the bill predicts will happen but, rather, what the likely reaction to it will be in the real world—so often overlooked by politicians at every level.
We also commend Fishbein for speaking out against a rather common procedure, practiced by both political parties, of naming potential bills in such a way as to almost shame people into voting for them. For instance, bills with sweet-sounding names such as, "An Act To Save Puppies From Burning Buildings," don't always have very much to do with puppies or burning buildings. By attaching such wording, it ensures that a certain segment of the General Assembly will vote in favor, just to avoid being labeled a person who "hates puppies."
Fishbein has gone to great lengths to explain why he's voted against such legislation, and while one can disagree with him on the merits, his instinct to look at the whole bill and judge it based on practical application will likely lead to more right decisions than wrong ones.
His opponent Dan Fontaine is a newcomer and we applaud someone so young—36—for wanting to get involved. The tone and tenor of our politics has a nasty habit of driving good people out of public service, so it is encouraging to see someone who wants to enter it.
Yet, we simply disagree on a fundamental level with Fontaine's political philosophy, whether applied at the state or federal level, and while Fontaine may be new to politics, the ideas he has championed seem as old as the profession itself.
Fontaine seems to believe that Connecticut's problems can mostly be solved by a "tax the rich" strategy. According to Fontaine's telling, the wealthiest in Connecticut aren't paying their fair share and, thus, the tax burden has been placed on the middle class. Yet, according to a recent article in
The Atlantic, for years the 0.02 percent of the wealthiest individuals in the state—many NEWSPAPERof whom work in the volatile finance sector—have accounted for 30 percent of the income taxes paid. That hardly seems like a "fair share" problem.
And how does raising taxes on the wealthy help a state that is experiencing a mass exodus of both businesses and residents? Those in the best position to leave Connecticut are its richest citizens, and they all but assuredly will do so if politicians signal that what lies ahead are more taxes and less freedom to earn and create and grow.
Fontaine seems genuine in his belief that the state can solve much of its problems with more progressive tax policies, but it seems to us that part of Connecticut's problems stem from too much, not too little, of that very philosophy.
---
Thursday, November 1, 2018 7:53 AM
From the Cheshire Herald Newspaper - 11/1/2018
FISHBEIN'S INTELLIGENCE, INSIGHT AN ASSET IN HARTFORD
Editor: Cheshire deserves the best representation it can find. That would include Craig Fishbein as its State Representative.
I have known Craig and his family for many years. Craig is an intelligent person with uncanny insight. These two attributes alone put him near the top of the list. On top of that, his depth of knowledge of state legislation and statute language is great, and his desire to understand it and ability to learn it even greater.
Craig is a successful attorney, and it is no coincidence that those lawyer skills have proven invaluable as a state lawmaker.
Craig is the perfect man to continue on as our State Representative.
I hope that you join me in supporting him in his re-election.
Rob Brucato Cheshire
---
Wednesday, October 31, 2018 8:09 PM
From the Record Journal Newspaper - 10/31/2018
FISCAL RESPONSIBILITY
Editor: I am endorsing Craig Fishbein for State Representative. Craig has demonstrated fiscal responsibility in state matters. He represents the taxpayers in his district, as well as throughout the state, and is diligent in reviewing bills that are brought before the legislature. His background as an attorney has helped him understand the issues and allows him to make sure the correct statutory language is used in writing these bills. And we can count on him to make informed decisions, as he tackles the tough issues such as fixing roads and bridges without adding tolls, stopping tax increases, and getting spending under control. He serves admirably on many committees and takes all of his duties very seriously. Craig is the person that we need representing us; please vote for Craig on November 6th.
Robin Corrigan, Wallingford
---
Tuesday, October 30, 2018 8:30 AM
ENDORSED BY THE WATERBURY REPUBLICAN NEWSPAPER!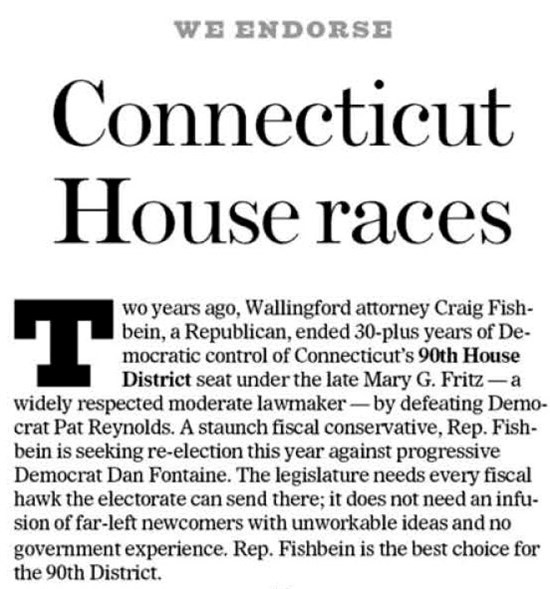 ---
Friday, October 26, 2018 5:44 PM
From the Record Journal Newspaper - 10/26/2018
FISCAL SANITY NEEDED
Editor: For three consecutive years, Connecticut has ranked among the top states that people move away from, according to the Annual National Movers Study tracking state to state migration patterns. As reported by the AP, people move away from states like CT to find lower housing costs and higher job growth.
"Free" college tuition, a $15 minimum wage and tolls will do nothing to reverse this trend except raise costs on everyone and continue to drive people away.
We need representatives like Craig Fishbein to fight to restore fiscal sanity to Hartford.
Vote Fishbein for State Rep on November 6th.
Chris Shortell, Wallingford
---
Thursday, October 25, 2018 8:33 AM
NO TOLLS!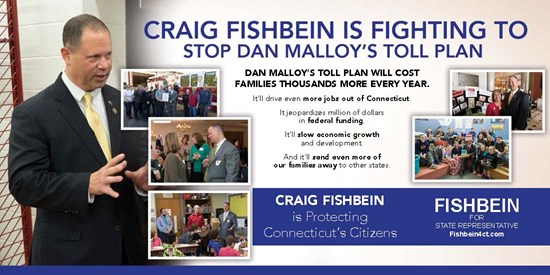 ---
Wednesday, October 24, 2018 12:02 PM
From the Record-Journal Newspaper - 10/24/2018
FISHBEIN'S WORK ETHIC
Editor: I am proud to endorse Craig Fishbein for his re-election to the state legislature. I pay fairly close attention to the candidates that represent Wallingford, and I am aware of how serious Craig is regarding his duties as a State Representative.
He puts an enormous amount of effort into meeting the obligations to his constituents, in both the committee process and in the House Chamber debating policy. He has tremendous desire for the facts, an incredible work ethic, and takes great pride in knowing all he can before he speaks or votes. That's the type of continued representation we deserve.
Noma Beaumont, Wallingford
---
Wednesday, October 24, 2018 12:01 PM
From the Record-Journal Newspaper - 10/24/2018
RE-ELECT CRAIG FISHBEIN
Editor: Craig Fishbein was elected as our state representative in 2016 because he was the most qualified candidate. That fact has not changed, and he has my full endorsement in the upcoming election. Craig proudly and effectively serves on our Town Council too. He takes a no-nonsense approach to solving the issues surrounding our town, and faithfully maintains a positive direction for our state. I can think of no one who is more qualified to represent us, whether it be in our town or at the State Capitol. Please join me in supporting Craig Fishbein, he's earned it.
Jo-Anne Rusczek, Wallingford
---
Wednesday, October 24, 2018 8:45 AM
From the Record Journal Newspaper - 10/24/2018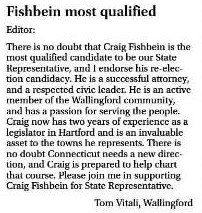 ---
Friday, October 19, 2018 10:14 AM
From the Record Journal Newspaper - 10/19/2018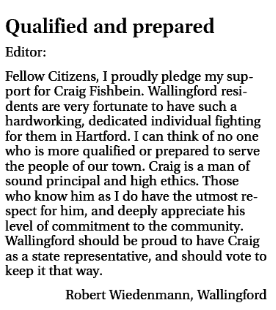 ---
Thursday, October 18, 2018 11:07 PM
ENDORSED by the CBIA and NFIB!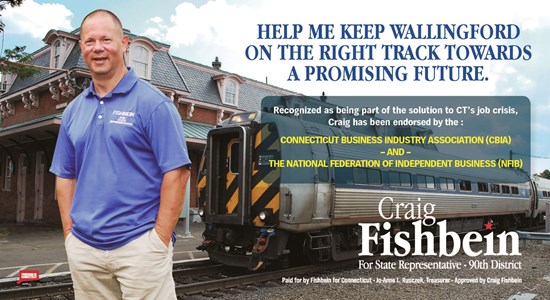 ---
Wednesday, October 10, 2018 11:03 PM
Tackling Our Toughest Problems...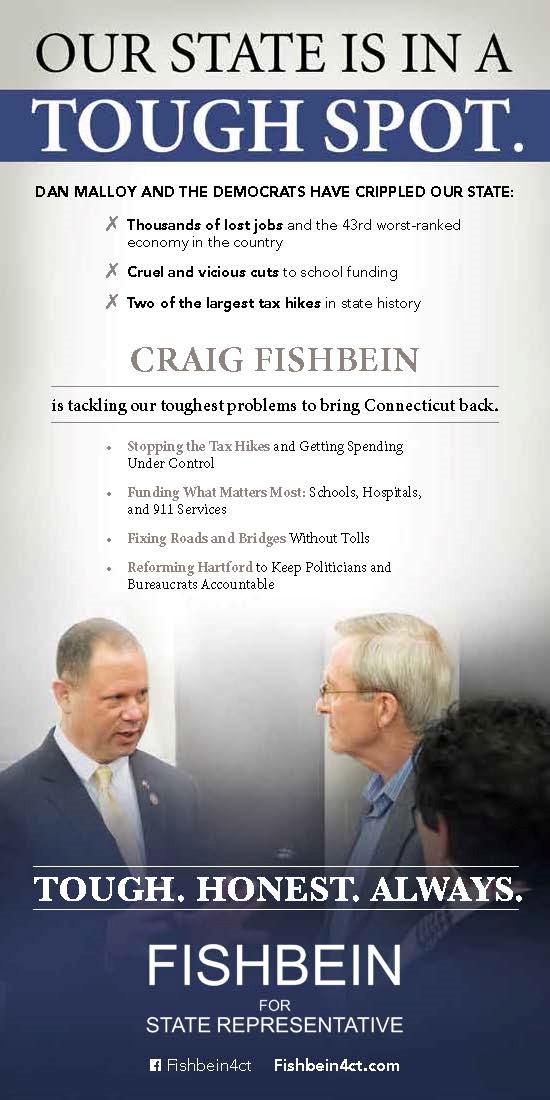 ---
Friday, October 5, 2018 11:00 PM
Experienced Leader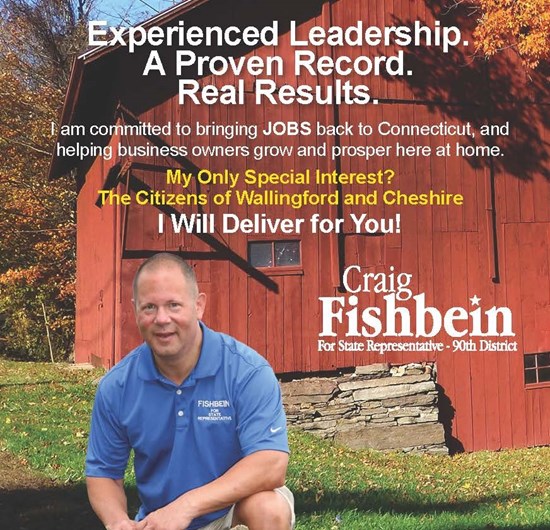 ---
Friday, September 21, 2018 12:00 AM
State Representative Craig Fishbein donned an apron for an hour on Wednesday, September 19, and bagged groceries for charity at the Wallingford ShopRite.
"Hunger and food instability affect every community in our state and country and I'm happy to lend a hand and bring awareness to these important issues locally," Rep. Fishbein said. "I want to thank ShopRite for always being supportive of our community and allowing me to play a small role in their charitable giving campaigns."
---
Friday, September 7, 2018 9:45 PM
Meet and Greet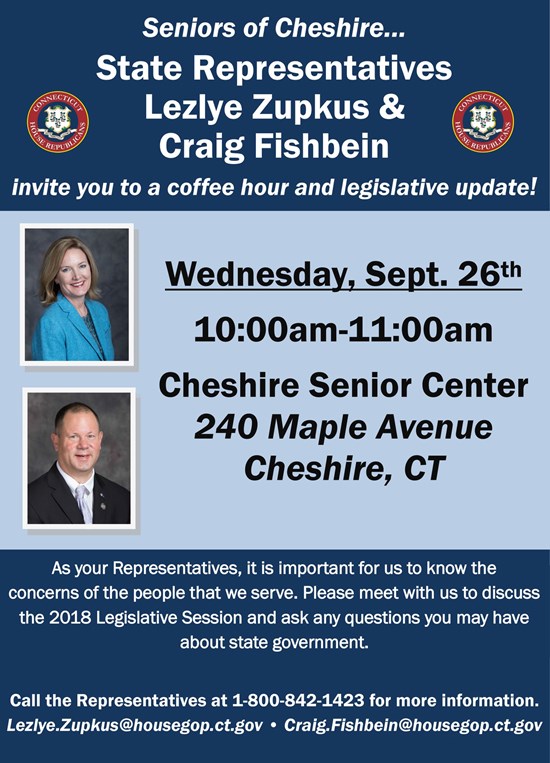 ---
Thursday, September 6, 2018 5:44 PM
OPINION: A Tolling Question by Craig Fishbein
There's a saying at the Capitol that no legislation is truly dead until midnight on the final day of session – when state law requires the legislature to stop working, and resets the calendar to zero in anticipation of the next session. This year, as is every year, many ideas were left to wither and die on the vine for a myriad of reasons that range from political to fiscal.

Thankfully, one proposal that died as the clock ran out, was to institute tolls on Connecticut highways. There were a few different bills, but the underlying theme of all was to install tolls all over the state, and tax drivers for (egads!) daring to travel to and from their work, their appointments, their shopping, or merely to visit friends or family who happen to live a few towns away. These were also made under the guise of bringing in revenue to repair Connecticut's crumbling roads and bridges.

Now, some may argue a toll isn't a "tax." I wholeheartedly disagree; a toll is absolutely a tax. Drivers who use toll roads are paying an extra penalty – a tax – on top of the enormous taxes they're already paying on gas, licenses and permits, and the property tax for merely owning a vehicle in the first place.

Proposals show as many as 80 toll gantries on nearly all of Connecticut's major roadways, including Interstates 91, 95, 84, 395, 691 and Routes 15, 8, 2, and more. Toll fees would (presently) range between 3.5 cents per mile to 11.8 cents per mile. Therefore, an ordinary commuter trip between Hartford and New Haven would cost about $800 or more annually.

But even that estimate is controlled by the price charged by the tolling system, which is hard to know because they are also proposing a congestion pricing toll system. Congestion price tolling is where the toll prices raise or decline based upon the amount of vehicles on the roadway. Congestion pricing could mean an extra 25% more per mile for driving during designated "rush hour" times. Of course, taking into account that rush hour will be when most of Connecticut's residents must get to and from work that means about 70% of all toll revenue collected will come from Connecticut residents.

Some say, how about just border tolls? No can do. When Connecticut agreed to remove its tolls in 1983, it was authorized to charge one of the highest gas taxes in the nation, and to receive a greater portion of federal transportation dollars. The installation of border tolls now would jeopardize $100s of Millions is past and future federal funds.

Toll proponents' claim a "lock box" will be set up to ensure collected funds will be used for the proper purposes. History shows that a "lock box" is only as good as the lock that secures it. If everyone has a key, there's no telling how long it will remain filled. In 1983, the current Special Transportation Fund was set up as a dedicated fund to finance the state's transportation infrastructure program and operate the DOT and DMV. By 1987, the fund was being used for non-transportation purposes. Plus, any revenue gained from enacting and erecting tolls will be years away, have no impact on the state's current fiscal crisis and will undoubtedly add more state bureaucracy and the associated salaries and pension costs that come with that expansion of government

Tolls are also a bad idea because people will naturally try to avoid them, putting greater stress on local roadways, leading to greater local congestion, and resulting in municipal tax increases

Just over a month ago, even though the legislature did not authorize tolls during session, nor did it appropriate any monies for the same, the Governor convened the 10 member State Bonding Commission (which he Chairs) for the purposes of borrowing $10 Million for another study of tolls. (FYI, there have been at least three such studies already completed within recent years.) Shortly thereafter, I joined my House Republican colleagues in signing a petition to go into special session to try and stop the borrowing. Unfortunately though, the House Democrats refused to sign the petition, a special session was not authorized, and the Governor's continued reckless borrowing goes on, unchallenged.

Thankfully in 2018, tolls succumbed to the stroke of midnight. Unfortunately though, I'm confident they'll be resurrected as early as January, 2019. As a very famous Yankee once said, "It ain't over till it's over."
---
Wednesday, August 29, 2018 3:36 PM
ENDORSED by the CONNECTICUT REALTORS!
Stable (yet reasonably appreciating) real estate prices are a vital component to a thriving economy. Lower taxes help foster that stability. I am glad to have the support of this organization.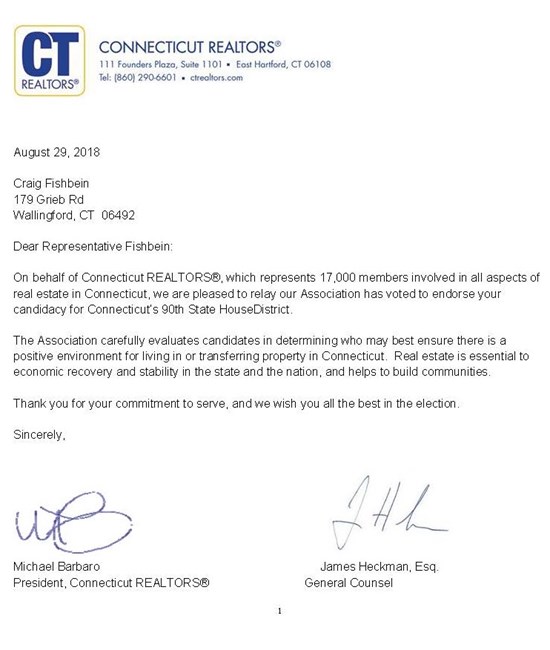 ---
Tuesday, August 21, 2018 6:47 PM
I Signed the Taxpayer Protection Pledge! #NoTaxIncreases #LiveWithinYourMeans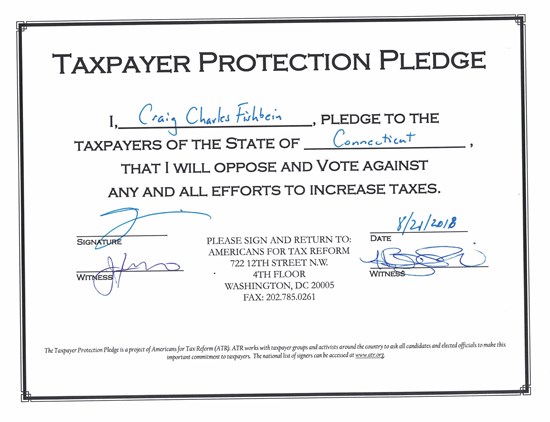 ---
Monday, August 20, 2018 7:06 PM
Julen Lujambio is Troop 4's newest EAGLE SCOUT!
Very honored to be a part of Julen Lujambio's Eagle Scout Court of Honor today!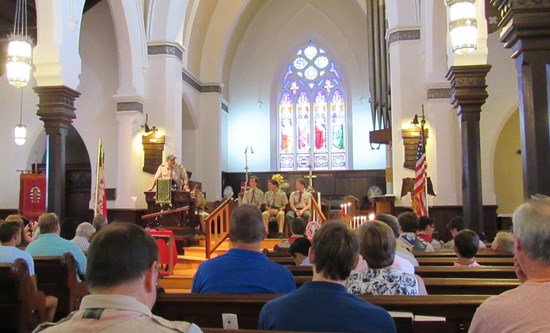 Many Eagle Scouts soar to great accomplishments in life. After hearing today about Julen, I know his future is one to behold.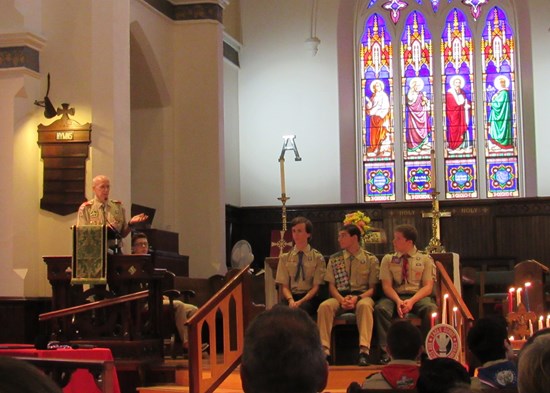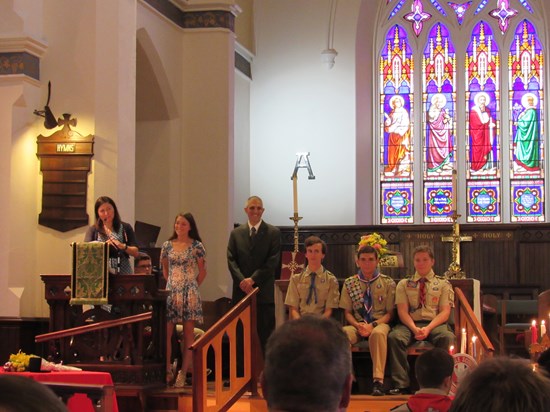 CONGRATULATIONS to Julen for his current accomplishments and for very many yet to come!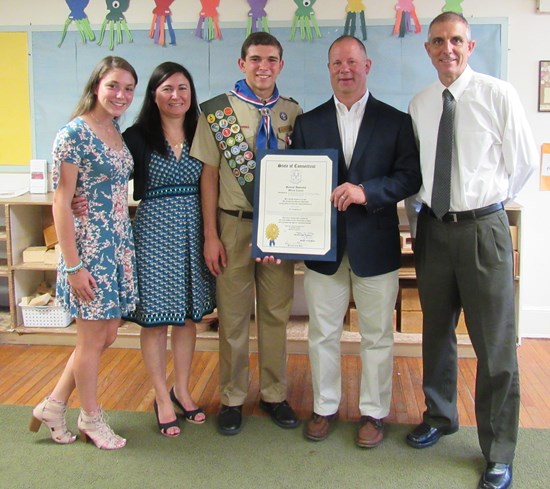 ---
Monday, August 20, 2018 7:02 PM
I Signed the House Republicans' OPEN CONNECTICUT Pledge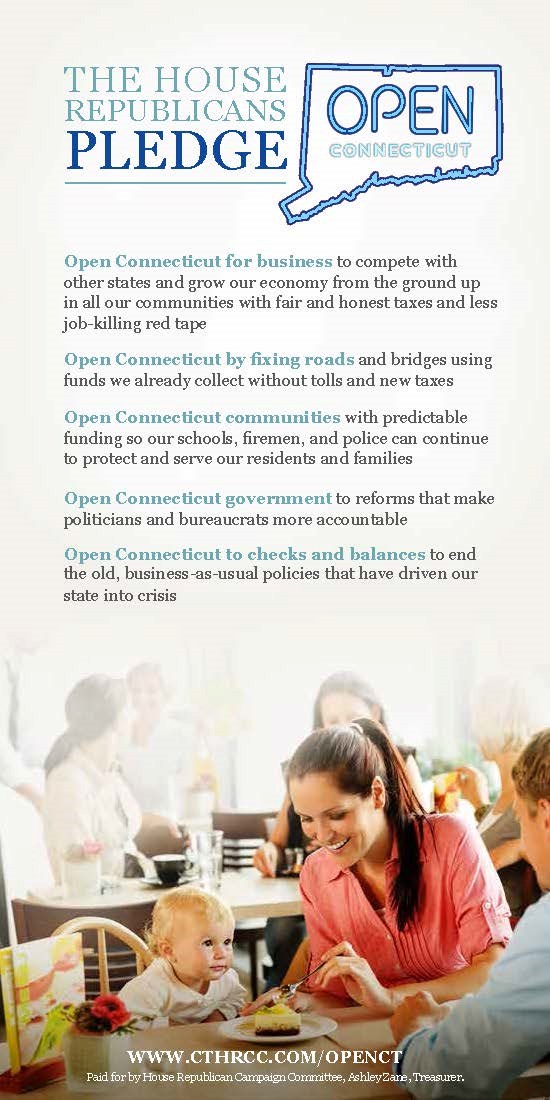 ---
Wednesday, July 25, 2018 12:00 AM
State Representative Craig Fishbein (R-90) today joined his Republican colleagues and signed a petition calling for a special session to deal with Governor Malloy's latest proposal to spend $10 million to study implementing tolls on Connecticut highways.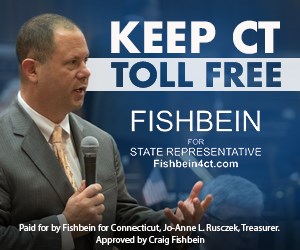 In a letter to the Governor last Wednesday, House Republican Leader Themis Klarides and Representative Christopher Davis, Ranking Member of the Finance Revenue and Bonding Committee, urged him to "reconsider your proposal to seek a $10 million bond allocation for a study of tolls at the next State Bond Commission meeting." The letter also pointed out that his proposal to spend "taxpayer money on a study of tolls without approval from the legislature is a blatant circumvention of our democratic process."
Unfortunately, that request was ignored and the bond commission passed the measure at their meeting on Wednesday, July 25.
"Once again the governor refuses to abide by the will of the people and their elected representatives in the legislature and plans to push another $10 million expense onto the taxpayers," Rep. Fishbein said. "With only a few months left in his term, and after previously suspending transportation-related projects due to a lack of funding, the governor now decides to waste millions to study an issue that has been soundly rejected by the people of the state. It doesn't make sense."
Over the last several years Republican lawmakers have proposed viable alternatives to fund infrastructure in a sustainable way, including plans to require the state to use a set amount of General Obligation Bonds solely for transportation priorities, preserving Special Tax Obligation bonds for transportation projects and re-establishing the Transportation Strategy Board (TSB) to assess proposed projects and identify community needs, Rep. Fishbein said.
"We can work together to fund important projects without adding even more pressure on taxpayers," Rep. Fishbein said.
The petition signed today states that signatories deem it necessary to hold a special session to prohibit the "expenditure of taxpayer funds to study and evaluate the establishment of tolls on Connecticut highways."
"No one knows what the future makeup of the legislature will be, or who will occupy the governor's seat, but from my perspective it doesn't matter because at this point tolls are not a viable option or priority," Rep. Fishbein said. "The state has already wasted far too much time, resources and money in an effort to implement a system of taxation the people have said they do not want."
---
Monday, July 23, 2018 8:34 AM
Some people believe that, whenever practical, government should be run like a private business. One striving, not to make a profit, but rather to provide for its customers' (aka residents') basic needs; to reasonably plan for future basic needs; to responsibly calculate the taxes demanded to meet those needs; and spending those funds in a frugal manner. I happen to be one of these people. (CONTINUED...)


---
Saturday, July 14, 2018 8:02 AM
Rep. Fishbein and Sen. Suzio Hosts Successful Town Hall in Cheshire
Rep. Fishbein and State Senator Suzio recently hosted a successful town-hall-style meeting for constituents in the council chambers of the Cheshire Town Hall building.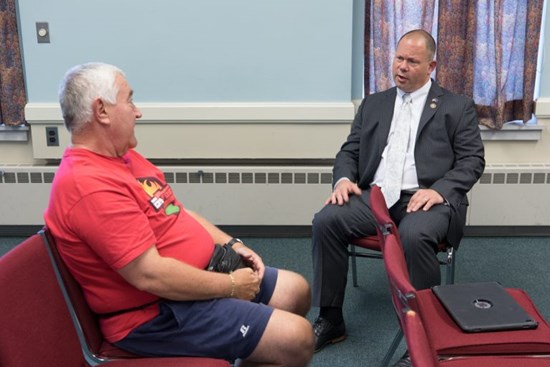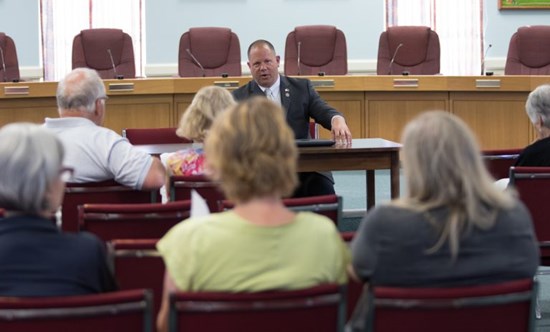 Many Cheshire residents attended, and listened to a breakdown of the recently-ended 2018 regular and veto sessions, and to ask questions about specific issues. The conversation varied between topics, but most of the evening was spent discussing the state budget deficit, the SEBAC union contract, how those two are linked and how they affect Connecticut's overall fiscal health. Other topics included the bump stock ban, road and bridge construction and repair, tolls and social safety net programs.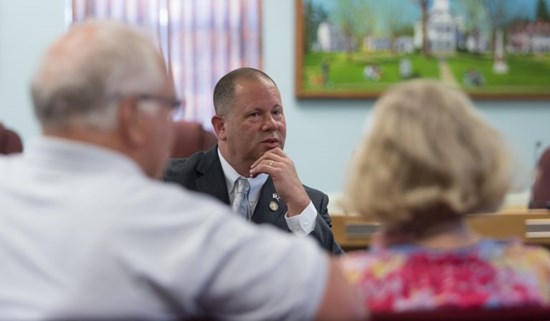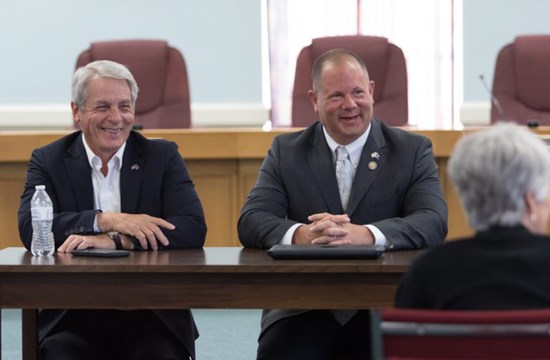 ---
Thursday, July 12, 2018 9:36 AM
From the Cheshire Herald Newspaper, 7/12/2018: Battle of Opposites as Fishbein, Fontaine Vie for 90th District Seat
Over the past few years, Dan Fontaine has watched as members of both the Republican and Democratic parties have debated one another over Connecticut's budget issues.
What Fontaine realized was that none of the state legislators were talking about issues he believes to be important, such as reducing the tax burden on the middle class or having the wealthy pay more to the state.
This year, Fontaine, a 35-yearold co-owner of a software development company, is hoping to help make his preferred changes in state policy a reality. He is running for the state House of Representatives 90th District seat, which covers areas of Wallingford and Cheshire. Fontaine, who previously canvassed for the Working Families Party, is running against first-term Republican Representative Craig Fishbein.
"We need to be honest about the situation we're in," stated Fontaine. "We need to be ready to fight for the living standards the working middle class people have been able to achieve in this state, because (they) are very much under attack."
Fishbein, an attorney with Fishbein Law Firm LLC, serves on the public safety, commerce, and energy and technology committees, and is also a member of the Conservative Caucus. During his first term in office, Fishbein has been criticized for voting against numerous proposals. However, the Wallingford resident stands behind his votes and states that, most times, his stances on issues have been misconstrued.
As an example, Fishbein pointed to his opposition to the "move over" law, which allows local authorities to impose fines on motorists who do not move over for emergency vehicles. One of the bills set out to change the language regarding the maximum fine that could be levied, from "up to $1,500" to "up to $2,500." Fishbein voted against the changes because it did not increase the minimum fee. As a result of his vote, Fishbein said, he has been painted as someone who opposes the law in its entirety.
"How do you deal with that?" he asked. "All I can know is that, in my heart, I know I did the right thing."
Both Fontaine and Fishbein admit that they are opposites of one another. Fontaine wants to see the state's minimum wage increased to $15 and for state colleges to be offered tuition-free. He said he was motivated to engage in the political process during the most recent presidential election by U.S. Senator Bernie Sanders, who wanted to ensure health care access for the general public and to make college affordable.
"Connecticut's really a microcosm of what's going on in the broader United States," Fontaine said. "We are the wealthiest state, the wealthiest country in the history of the world, and we can't seem to do things that we were able to do 30 to 40 years ago."
Fontaine argues that, in order to afford a basic apartment and live in Wallingford, the minimum household income needs to be $24 per hour. If two adults are working minimum-wage jobs, Fontaine argues, they cannot afford the apartment. If, however, the minimum wage is increased, that same family could reside Wallingford.
"Some of that value is lost to inflation but, overall, they end up substantially ahead," Fontaine said. "For most people, there hasn't been a huge inflationary impact from increasing the minimum wage. We just haven't seen it."
Fishbein, on the other hand, believes the minimum wage "should be repealed." He said that, as a result of the previous minimum wage increases, two of his employees at his law firm were replaced by one part-time staff member. Fishbein added that he cannot afford to hire other employees unless he raises his fees.
"I think the fair market should determine wages," Fishbein said. "… What people don't understand— who are proponents of that (the minimum wage)—is things that they buy are then going to cost more, so then it's cyclical. They're going to say, 'My standard of living is such that I need more.' It just doesn't make sense."
Fishbein added that individuals who support a minimum wage that is a "liveable" wage are in favor of mediocrity in the workforce.
"When you say to someone the government is going to mandate you're paid a living wage, on some level, you're supporting
mediocrity," he said. "When people are being paid what they are worth, I would think that people tend to work a little harder."
To provide tuition-free schools, Fontaine believes that not only should state officials deal with "administrative bloat" at state colleges, but that the Connecticut's wealthiest residents should be taxed more.
"If we can succeed in getting more tax revenue out of the wealthiest people, we can afford to do these things," Fontaine said. "We have the wealth here. We're just not making use of the resources that we have."
Fontaine insists that the state's wealthiest have been protected— taxed less than the working middle class for fear that they will leave the state.
"There's a lot of money behind pushing this narrative that you can't do anything in terms of taxes on wealthy people because they'll leave. The data doesn't bear that out," he said.
Fishbein disagrees and states that, oftentimes it is "the rich" who are the ones who creating jobs. Increasing their taxes, he believes, will definitely result in them leaving the state.
"Why do we penalize the risktakers and entrepreneurs for being risk takers and entrepreneurs?" Fishbein asked. "Am I jealous for people who make a lot of money? Yeah, but do I try and harm them? No."
To address the high cost of state colleges, Fishbein said he believes universities should act as "enterprise funds," with school administrations determining how many students are admitted based on standards such as salary and tuition costs, as well as school size.
"The current system is just wrong," he said.
---
Friday, June 15, 2018 10:55 PM
Rep. Fishbein holds successful Coffee & Conversation event at Dad's Restaurant
This morning's Coffee & Conversation event at DAD'S Restaurant was filled with great food, great drink, great people, and great conversation!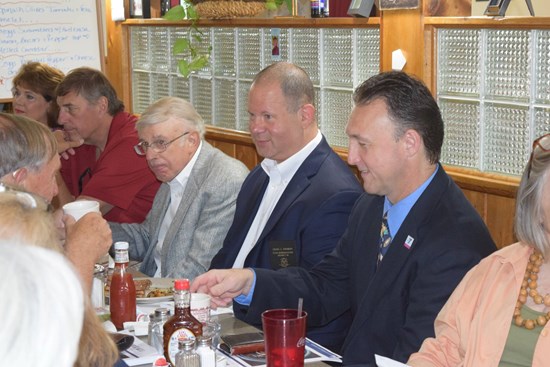 ---
Tuesday, June 12, 2018 10:34 PM
Recently, there has been much written about modifications to the Town of Wallingford's 2018-19 budget. Some of it inaccurate. This column attempts to accurately state the facts, and explain how we got to the present — a very small tax increase. (CONTINUED...)


---
Wednesday, June 6, 2018 10:49 PM
Rep. Fishbein participates in podcast conducted by Wallingford middle school students
A fantastic morning being interviewed by the students in Mr. Bikakis' Student Enrichment Program (STEM) for their podcast. Alot of interesting and probing questions from these inquisitive young minds! #WallingfordCT #STEM #WallingfordSchools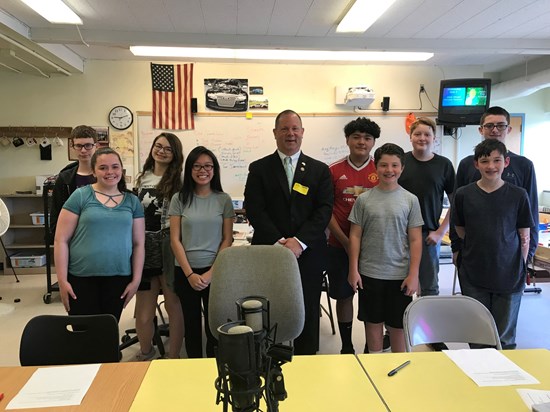 ---
Thursday, May 31, 2018 11:07 PM
Rep. Fishbein and Fellow Lawmakers Applaud Wallingford's Efforts To Promote STEM Careers
State lawmakers recognized the Town of Wallingford and the Wallingford Public School District for launching a new campaign to boost interest in fields related to STEM (Science, Technology, Engineering and Mathematics) at Wallingford's "STEM Town" campaign kickoff at Wallingford HUBCAP on Thursday, May 31. State Senator Len Fasano and State Representative Craig Fishbein presented a citation on behalf of the entire Wallingford delegation to the town and school district.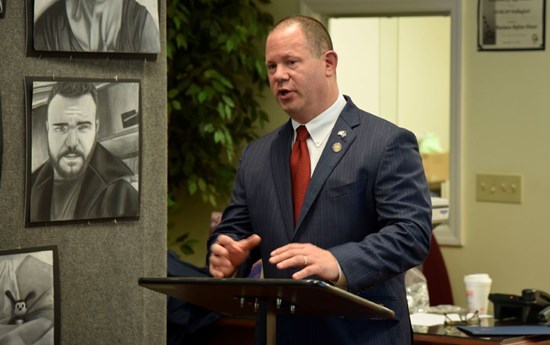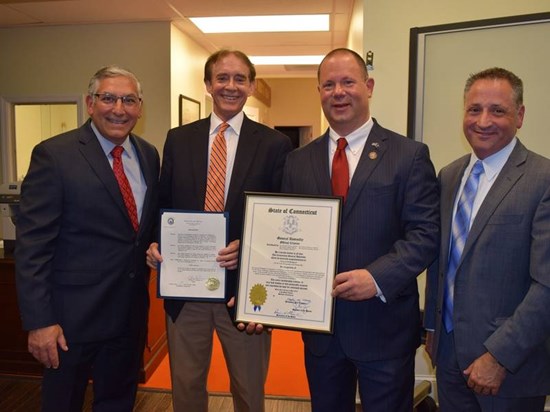 "Supporting our students with smart investments in the STEM fields will prepare them for the future and make both Wallingford and Connecticut stronger,"Rep. Fishbein said. "I'm pleased Superintendent Menzo and the Wallingford School District are providing these opportunities and I'm confident our youth will excel in these in-demand fields. Manufacturers across the state have said they are struggling to find qualified employees because many applicants lack the specific skills taught in these very programs. By putting the focus on STEM education, our schools are saving the essence of manufacturing."
---
Thursday, May 24, 2018 11:00 PM
Rep. Fishbein and Cheshire Delegation Members Honor Essay Winner
During a brief presentation Thursday morning, State Representatives Craig Fishbein and Lezlye Zupkus were joined by principal Scott Jeffrey to honor Leila Hyder, 12, for her women's history month essay on author Luanne Rice. Leila's parents, Anita Sharif-Hyder and Fahmeed Hyder, surprised their daughter by attending the presentation.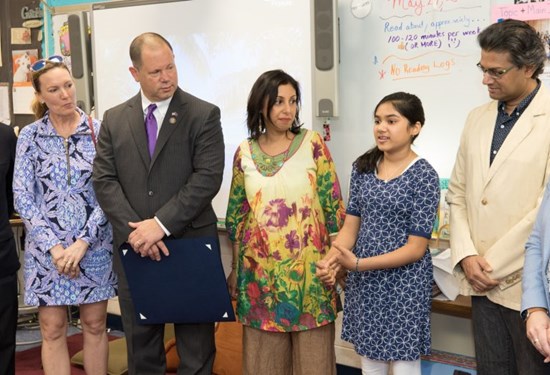 The Women's History Month essay contest titled, "Important Women in Connecticut's History and How Their Contributions to the State and Nation Affect Me," was organized by Rep. Fishbein to honor Women's History Month. Unfortunately, due to the legislative session the legislators were unable to meet with Miss Hyder during March. During the presentation before her 6th grade class, Hyder was given an official state citation and explained who author Luanne Rice is, and how she overcame incredible difficulty to become a respected author, before posing for pictures with her parents, the legislators, school officials and her classmates.
---
Sunday, April 22, 2018 8:38 PM
People ask a lot of questions about my role as a legislator.
They ask about the Capitol building, the district and the process of moving bills through committee, among others. The question I'm asked most frequently is, "how has the state become so screwed up?" Anyone who has given even a cursory look into the process knows that question is
difficult to answer.
However, one of the more important reasons the state is in the mess it's in is because of emotion. Many legislators vote on items based upon the title of the bill instead of what is written in the legislation, what it means and what it will ultimately do.
---
Saturday, April 21, 2018 8:43 PM
Come Join Representative Fishbein for CT Trails Day 2018!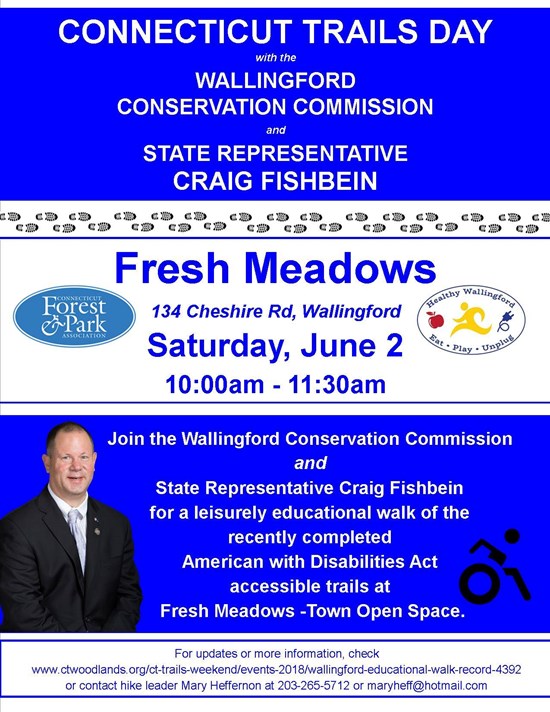 ---
Tuesday, April 10, 2018 12:00 AM
WALLINGFORD — The state's largest pro-gun rights group will hold a rally at the state Capitol on Saturday in response to rallies held following the Florida school shooting. The Connecticut Citizens Defense League will hold a "Rally for Our Rights" on the north steps of the Capitol, facing Bushnell Park, from 11 a.m. to 1 p.m. The group's president, Scott Wilson, said the rally is "at least in part a response to the recent gun control rallies."
The rally will have several speakers, including state Rep. Craig Fishbein, R-Wallingford. Fishbein said "Unfortunately, some people are misinformed as to guns and gun laws. Unfortunately, some people blame guns for tragedies where in other instances they blame the person. I know. I used to be one of those people, but have since learned differently."
---
Tuesday, April 3, 2018 12:00 AM
State Representative Craig Fishbein (R-90) was presented with the 2017 AARP Affordable Utilities Champion for his leadership and support of policies that aim to reduce the burden of utility costs for all people, especially seniors, across the state.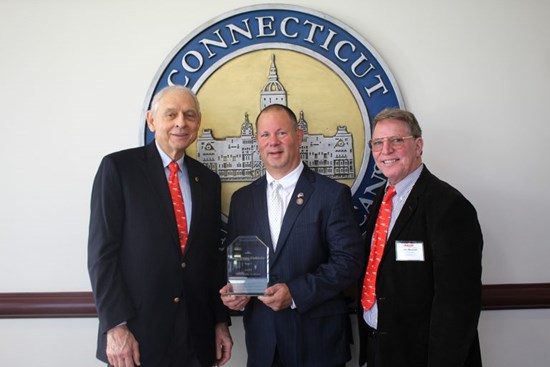 "I'm honored AARP chose to recognize my work on behalf of seniors across our state, and I remain committed to policies that promote fiscal restraint while serving all residents, including Connecticut's elderly population," Rep. Fishbein said.
"AARP's 600,000 members in Connecticut applaud the efforts of Representative Fishbein to help keep utilities affordable in Connecticut," John Erlingheuser, AARP Connecticut director of advocacy and outreach, said. "His strong voice in opposition to the subsidization of the profitable Millstone Nuclear Power Plant was admirable."
The AARP Affordable Utilities Champion award was presented in recognition of Rep. Fishbein's "leadership on affordable utilities and his steadfast advocacy in helping to protect Connecticut ratepayers from unreasonable rate hikes, including his opposition to proposed changes to the Millstone plant," AARP said.
---
Monday, March 26, 2018 12:00 AM
Rep. Craig Fishbein recently spent time touring displays and speaking with representatives of multiple agricultural groups and organizations during the annual Agriculture Day at the state capitol. During the event, Rep. Fishbein ran into longtime friend, and former Wallingford school district employee, Sharlene Wong, of the School Nutrition Association of Connecticut, before trying a cup of New England clam chowder provided by Kane's Market in Simsbury. Other groups at the event included, Connecticut DEEP, The Agriculture Experiment Station, apple growers, maple syrup producers, dairy farmers, among others.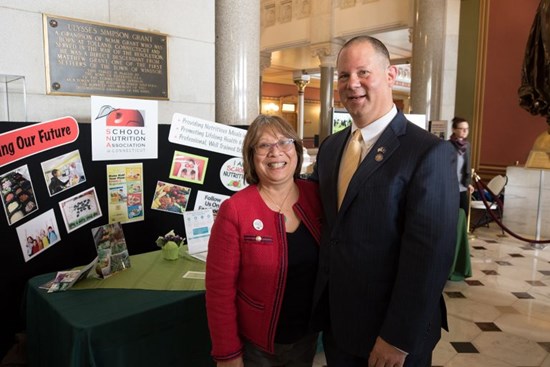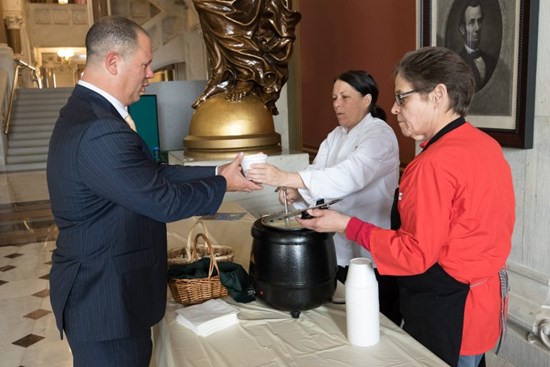 ---
Thursday, March 22, 2018 12:00 AM
---
Tuesday, March 20, 2018 12:00 AM
State Representative Craig Fishbein presented an official state citation to Eagle Scout Joseph Bernick during his Eagle Court of Honor at St. Paul's Church in Wallingford on Sunday, March 18.
Joseph Bernick follows in the footsteps of both his father, John, and older brother, Mark, who also attained the highest rank of Eagle Scout.
The celebration included candle lighting traditions, the Boy Scout Oath, Eagle Oath, presentations from local, state and Boy Scout dignitaries and family remarks.
Joseph's Eagle Scout service project was the design, planning and installation of a new fence behind the Franklin Johnson Mansion on South Main Street.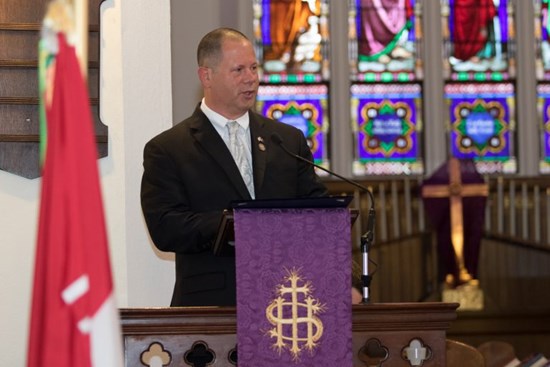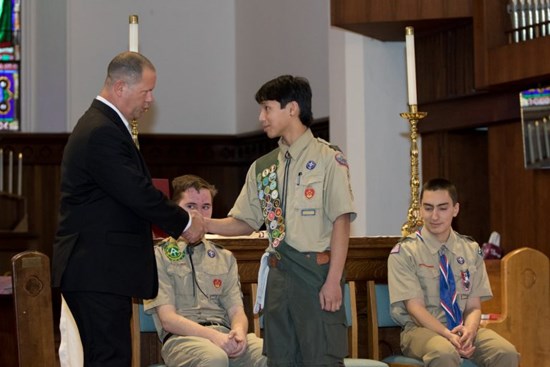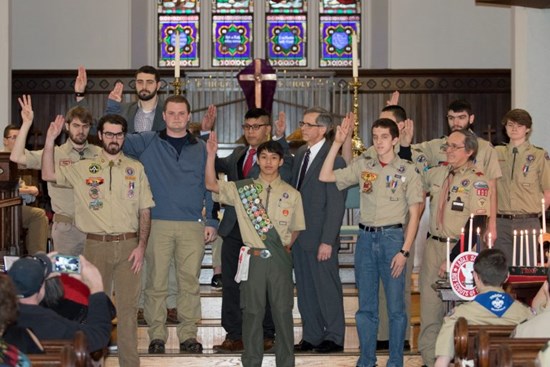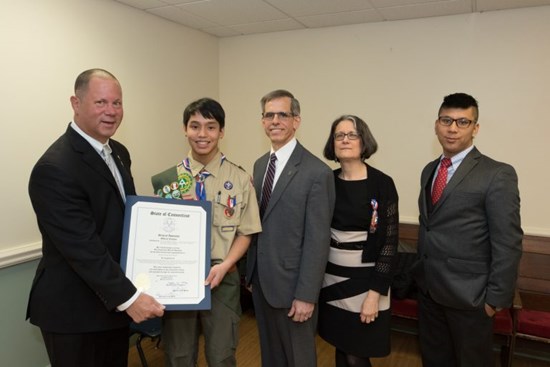 ---
Friday, March 16, 2018 12:00 AM
State Representative Craig Fishbein (R-90) today testified before the Planning and Development Committee in support of legislation he co-sponsored that would hold municipalities harmless for maintaining or building financial reserves during arbitration matters.
Senate Bill 421 – An Act Concerning Municipal Budget Reserves For The Biennium Ending June 30, 2019 – would mandate arbitration panels "give priority to the public interest and the financial capability of the municipal employer, including consideration of other demands on the financial capability of the municipal employer" and maintain "an irrebuttable presumption that a municipal employer's budget reserve of fifteen per cent or less of the municipal employer's operating budget [reserve] is not available for payment of the cost of any item subject to negotiation or arbitration under this chapter."
(CLICK THIS NEWS ITEM'S TITLE FOR MORE)
---
Thursday, March 8, 2018 6:13 PM
In honor of Dr. Seuss' birthday and donning a "Cat in the Hat" hat, State Representative Craig Fishbein recently spent part of a morning reading to 5th graders at Wallingford's Mary Fritz Elementary School.
Despite a winter storm, Rep. Fishbein was able to read two books – the Seuss classic "What Pet Should I Get" and "What Do You Do With An Idea?" by Kobi Yamada and illustrated by Mae Besom – to Michelle Jones and Jenn Leonard's classes that were assembled inside the media center.
After he finished reading and talking to the students about his role in the legislature, Rep. Fishbein donated the Seuss book to the school and gave his hat to one lucky student.
(CLICK THIS NEWS ITEM'S TITLE FOR MORE)
---
Wednesday, March 7, 2018 5:26 PM
Rep. Fishbein Testifies in Favor of Stronger Opiate Laws
In further efforts to reduce opiate abuse statewide, State Representative Craig Fishbein (R-90) this week testified in favor of strengthening current state law to hold opiate prescribers accountable for improper record keeping with regard to distribution of controlled substances.
Under Public Act 13-172, passed in 2013, the state's Prescription Drug Monitoring Program (PMP) requires weekly "prescription information reporting by out-of-state pharmacies that ship, mail, or deliver prescription drugs into the state and any other drug dispensing practitioner." Practitioners are defined as "certain medical professionals, researchers, pharmacies, hospitals, and other people or institutions permitted to dispense drugs in the course of professional practice or research." These statistics are used by the Department of Consumer Protection (DCP) to collect prescription information to prevent improper or illegal drug use. Unfortunately, not all prescribers are following the law.
---
Wednesday, March 7, 2018 5:25 PM
Rep. Fishbein, Legislators Host Cheshire Town Hall Meeting
State Representatives Craig Fishbein and Lezlye Zupkus, and State Senators Joe Markley and Len Suzio recently hosted a pre-session, town-hall-style meeting for constituents where they discussed the long 2017 regular and special session and the recently convened 2018 session.
A large part of the conversation was centered on Connecticut's continual budget crisis, state spending and taxation, and how the state can reduce the deficit while also funding critical state services. Transportation, especially with regard to the potential for the implementation of tolls, also took up a large part of the meeting.
---
Wednesday, March 7, 2018 5:23 PM
Rep. Fishbein Continues to Vote Against Increasing State Budget Deficit
Continuing to vote against measures that add to the state deficit, State Representative Craig Fishbein (R-90) today voted against a veto override to restore Medicare Savings Plan funding until July 1.
The legislation, initially passed on January 8 and vetoed by Governor Malloy, restores funds for the state Medicare Savings Plan for half of the budget cycle but fails to address the program's future, unbalances the present budget and creates an additional $17.8 million deficit for 2019.
The Medicare Savings Plan (MSP), a state program to help seniors and the disabled pay for Medicare coinsurance, deductibles and premiums, was reduced with passage of the bipartisan budget late last year. The program is administered to qualified individuals based on income eligibility limits. In the meantime, Governor Malloy delayed implementation of the cuts until the beginning of the next fiscal year in July.
"I support the program and its recipients but I could not cast a vote to increase the state budget deficit, and certainly not when it only creates a 5-month, temporary reprieve," Rep. Fishbein said. "When I voted against the original bill I said the program needed substantial overhaul to better serve the people it is intended to serve."
---
Wednesday, March 7, 2018 5:22 PM
Rep. Fishbein Honors Joe Dacunto
State Representative Craig Fishbein and State Senator Len Fasano joined dozens of firefighters, family, friends and well-wishers to honor Joe Dacunto for 53 years of service as a Volunteer Fire Chief and Firefighter to the Town of Wallingford.
Inside the large apparatus bay at Wallingford Fire Department's Company 7 on North Farms Road, local elected officials and former coworkers shared heartwarming, and sometimes hilarious, stories of his time serving the town as a firefighter, fire chief and public works employee.
During the formal portion of the event, Mayor Dickinson announced January 22, 2018, as Joe Dacunto Day in the town and Rep. Fishein and Sen. Fasano presented an official state citation on behalf of the entire Wallingford delegation.
---
Wednesday, March 7, 2018 5:20 PM
Rep. Fishbein Votes Against Increasing State Budget Deficit
State Representative Craig Fishbein (R-90) today voted against legislation which restored funds for the state Medicare Savings Plan for half of the budget cycle, pointing out that it failed to address the program's future, unbalances the present budget and creates an additional $17.8 million deficit for 2019.
The Medicare Savings Plan (MSP), a state program to help seniors and the disabled pay for Medicare coinsurance, deductibles and premiums, was reduced with passage of the bipartisan budget late last year. The program is administered to qualified individuals based on income eligibility limits. In the meantime, Governor Malloy delayed implementation of the cuts until the beginning of the next fiscal year in July.
"I am supportive of this program and its recipients but voted against this temporary fix because it increases our already ballooning state deficit and became irrelevant once Governor Malloy suspended the cuts through the end of the current fiscal year," Rep. Fishbein said. "Adding to the state deficit without making substantial changes to offset those costs is the definition of kicking the can down the road and is not how the legislature should treat the people of our state, or manage the budget. We're currently facing another projected $224 million deficit, and with the governor's six month delay it made little sense to take today's action especially considering we'll be debating this very issue in the coming months as we wrestle with our current deficit, and projected future deficits."
The current budget banks $17.8 million from the FY18 and carries that money forward into FY19. By the action of the legislature today, this carryforward was repealed.
"Eliminating the carryover alone would create at least another $17.8 million hole in our state budget," Rep. Fishbein said. "Moving forward, I am hopeful we will be able to better anticipate such expenses and create a truly balanced budget that provides for continuation of important services while also being fiscally viable."